Its with great pleasure that we are able to announce a selection of new enhancements to the FrameIT website as our latest product release went live on the 30th April. Below is a summary of the more noticeable updates, but you can watch and listen in our quick recording below.
New measurement input page
The measurement input page is arguably the most critical aspect of the website. It's the first step of the framing process, and since we craft frames to the nearest mm, its crucially important that our customers feel informed and confident in what they're inputting vs. what they'll be receiving.
The previous page was by no means bad, but we still felt it could be improved, so we've completely redesigned this page and enhanced the instructions on how to correctly measure your artwork by introducing a video demonstration. The page looks much better on mobile as well, ensuring the size input boxes show first.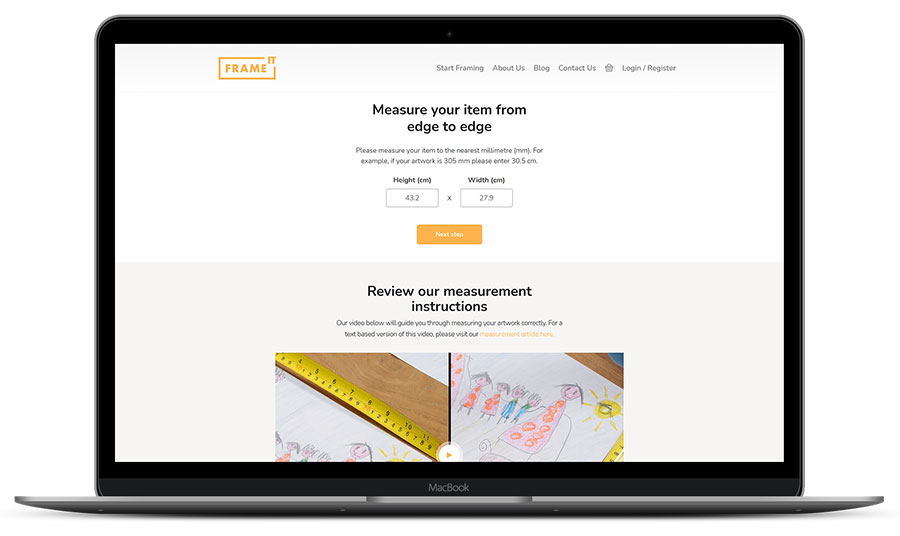 Increased size allowance
In the very first release of FrameIT we restricted the maximum item size to around 80cm x 120cm and this restriction was largely down to the dimensions of a standard mat board size. We quickly found that many customers wanted to order larger than 80 x 120, so we've now acquired oversized mat boards in white, black, and off-white and increased our maximum frame size to 100cm x 150cm.
Technically we could go larger, but once you exceed these kind of sizes, the frame requires a structure to be built on the back to handle the weight, and in our view this begins to exceed the remit of 'simple custom framing' as it requires a lot more craftsmanship. It is also likely that customers may have more difficulties trying to mount such a large item. As such, anything over 100 x 150 would be better served by taking the item to a physical framing shop and seeking their support to mount the item professionally.
Better guidance on suitable frame widths
When purchasing a frame, the width of the frame profile [i.e., 1.5cm, 2cm etc] has a bearing on the overall strength of the frame. When a frame is under about 70cm x 70cm, a 1.5cm profile is more than adequate, but once it starts to exceed these kinds of dimensions, you really need a wider profile, such as 2cm or 3cm.
We were seeing quite a few orders where customers would order a 1.5cm profile for a very large frame. As we weren't restricting the options, or providing guidance, this was a perfectly reasonable request from our customers. The problem was, we couldn't in good conscience send such a frame, so we'd need to bother the customer by emailing them and asking for their permission to increase the frame width to 2 or 3cm.
With this latest release the website will inform customers of the suitable frame width to order. For example, if you were to input 70 x 70 as the size of your item, we will inform you to purchase a frame 2cm or wider, and we'll hide the 1.5cm profiles from the list of options.
It's an update that won't increase revenue in any way, but it will increase customer experience and reduce the need for us to email customers requesting changes to their orders.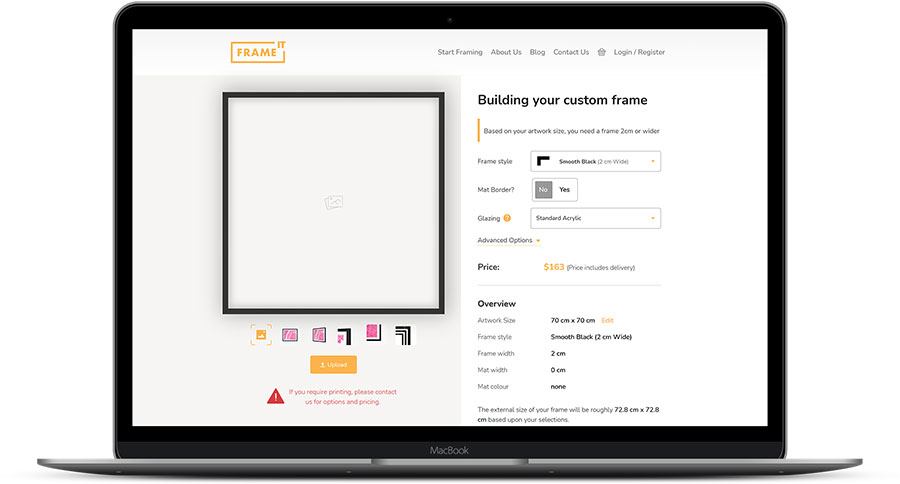 Improved builder page
We've also enhanced the main builder page quite a bit.
Firstly, we've made the mat border option into a toggle on/off switch, and by default it is set to no. If the customer wants to add a mat border, they can easily toggle it on to display the additional options and the visual will update accordingly. It keeps the overall UI much more simplistic on initial load without losing any of the functionality.
Secondly, we've added a new information section below the core builder. This provides some additional information on our framing and materials, whilst also providing a couple of relevant videos to give prospects a bit more confidence in what they're getting when they order from us.
We do often get asked 'what is a mat border' so hopefully the changes here, including a video on the topic will help cover off this query as well.